Livv Housing Group: What Motivated Them to Upskill Their Staff?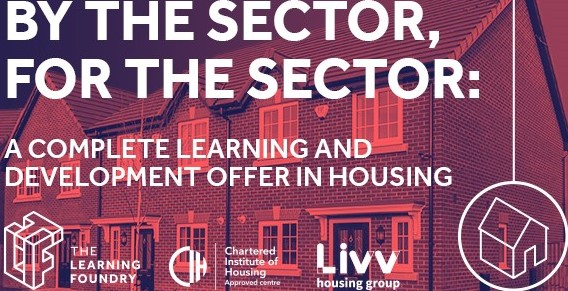 We sat down (virtually!) with Amanda Manning, L&D Manager from Livv Housing Group to find out what motivates them to continue investing in staff development.
Livv Housing Group, (previously known as First Ark Group) is a well-established and award-winning Housing Association in Knowsley, Liverpool. They strive to provide an excellent service through bringing people and neighbourhoods together to create better opportunities to grow, develop and thrive.
So how does such a successful organisation like Livv Group, continue to deliver on these aspirational aims?
When the apprenticeship levy came into effect at the start of the 2017/18 tax year, it was seen by Livv Housing Group as a fantastic opportunity to take full advantage of. The levy is a compulsory payroll tax for UK-based employers. If you are an employer with a pay bill of over £3 million each year, you will pay the apprenticeship levy. The aim of the levy is to encourage employers to actively support apprenticeship training programmes for both new and existing employees.
Many organisations don't use or make the most of the apprenticeship levy because of a lack of understanding about it. At Livv Housing they have been able to maximise the benefits of the levy, with over 70 staff out of 450 upskilling with apprenticeships, it's fair to say they have embraced the levy and all that it offers with open arms.
For Amanda (pictured above) and the team, the primary motivation to upskill staff was to enhance the existing knowledge of their workforce and therefore provide the best service possible for residents. The added benefit was that learners engaged on the course reported they felt invested in and valued.
Amanda said: "We picked The Learning Foundry because I was impressed by their knowledge and that the tutors were CIH Professionals themselves. You could see that the team there are passionate about delivering the CIH qualification! We could tell our staff would be in great hands.
"Having also completed a CIH qualification myself, it had given me a great understanding of Social Housing, I wanted that learning experience and outcome for our staff. I believe everyone in Housing should do a CIH qualification."
There are many challenges that Housing organisations can face around keeping staff knowledge up to date in a diverse and heavily regulated sector that is continually changing to meet the needs of customers and the operating environment. We can help to alleviate this by supporting your staff to develop their knowledge through a range of accredited courses delivered by us!
Recent Learning Foundry graduates from Livv Housing commented:
"It has been a great experience, really relaxed, when the UK went into lockdown due to COVID-19, the infrastructure was put in place quickly at The Learning Foundry to ensure that learning from home ran very smoothly and that we had the required support" said Paula Meadows.
Despite the challenges around social distancing The Learning Foundry was able to continue to deliver courses for Livv Housing online, keeping their staff safe and avoiding disruption to the training programme. The approach has been so well received that we are looking forward to welcoming more Livv Housing learners onboard soon!
"We're proceeding with Distance Learning, it's definitely the way forward. As a business, our staff know that we are investing in them and we want them to carry on learning and to stay within our business for a long time to come," said Amanda.
100% of the CIH Housing apprentices from Livv Housing have gained a distinction from their apprenticeships with us to date, showing what can happen when a high-quality housing association with passionate employees and an equally driven training provider come together.
For more information about how we can help you make the most of your apprenticeship levy and upskilling your staff get in touch on:
0300 123 8088 or info@thelearningfoundry.co.uk.
Or visit: https://www.thelearningfoundry.co.uk/learn-with-us